The Clay Doyle Gallery
July 17. 1992 to April 2, 1996
Introduction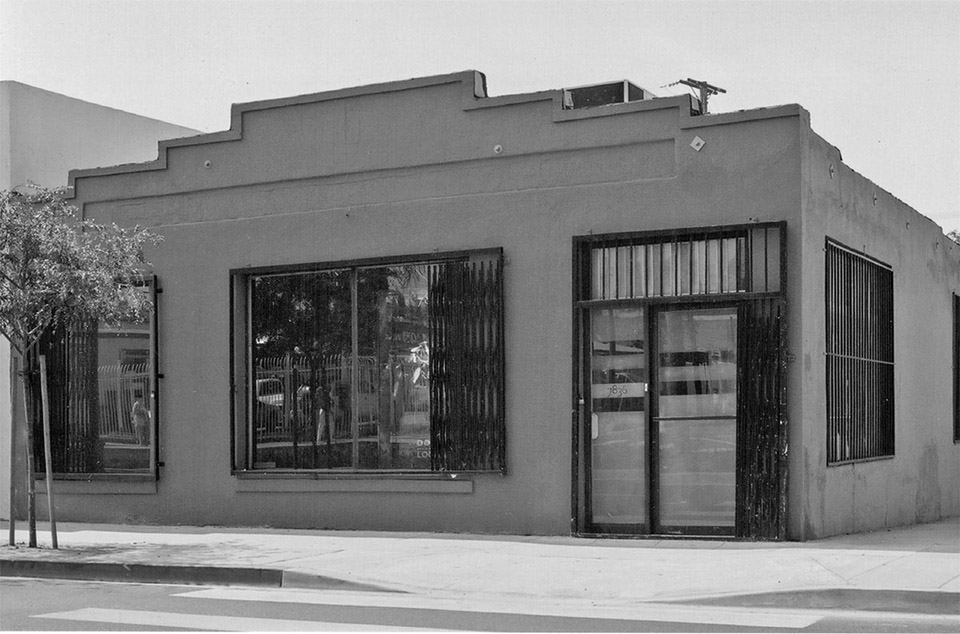 When Clay Doyle moved his studio from Westwood to West Hollywood in 1992 he rented a building with enough room for a small exhibition space. He had long wanted a gallery to showcase the work of the talented illustrators and photographers he knew from his graphic design business.
The Exhibitions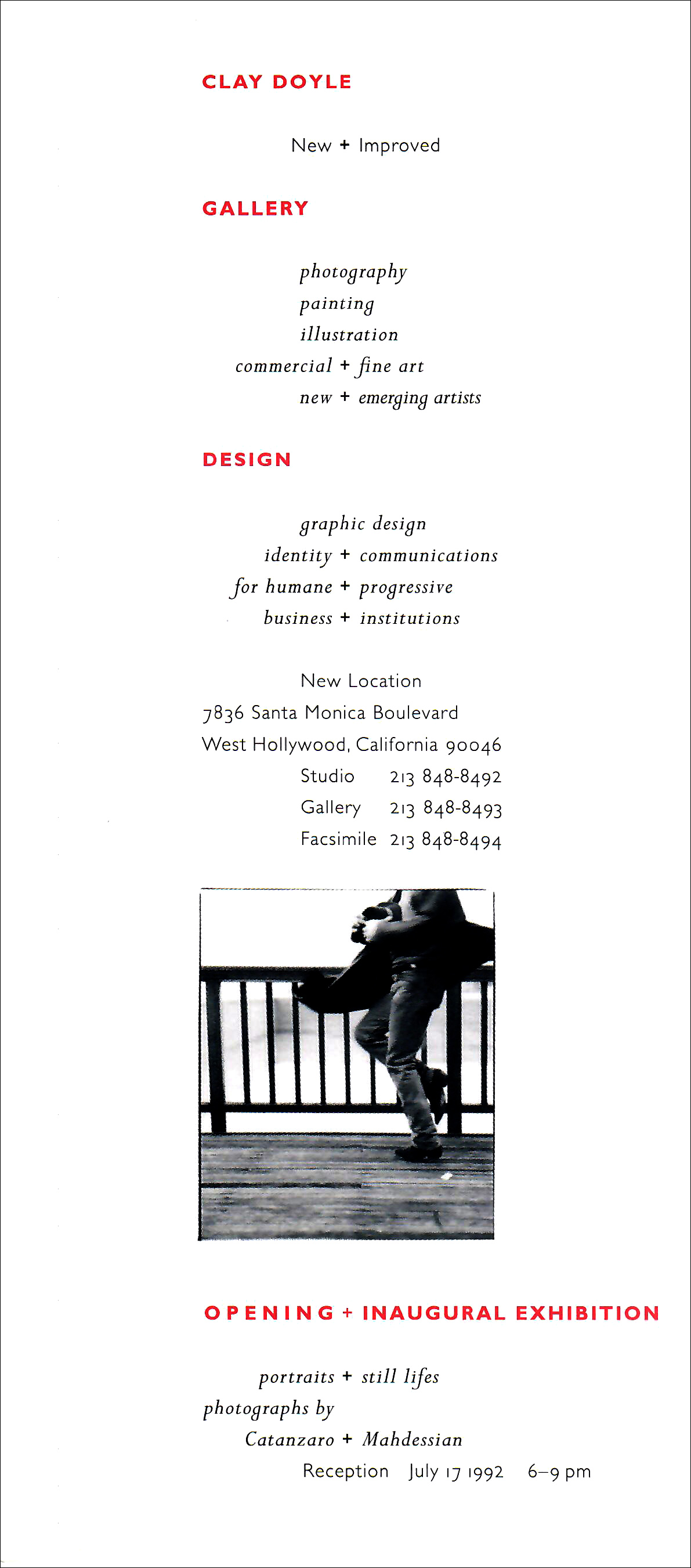 Catanzaro & Mahdessian
Inaugural Exhibition
July 17, 1992
Photography by Ted Catanzaro & Debbie Mahdessian
First commercial solo show;
All negatives and most prints were subsequently destroyed in the Malibu fire of 1993.
Now: they continue to work as commercial and fine art photographers.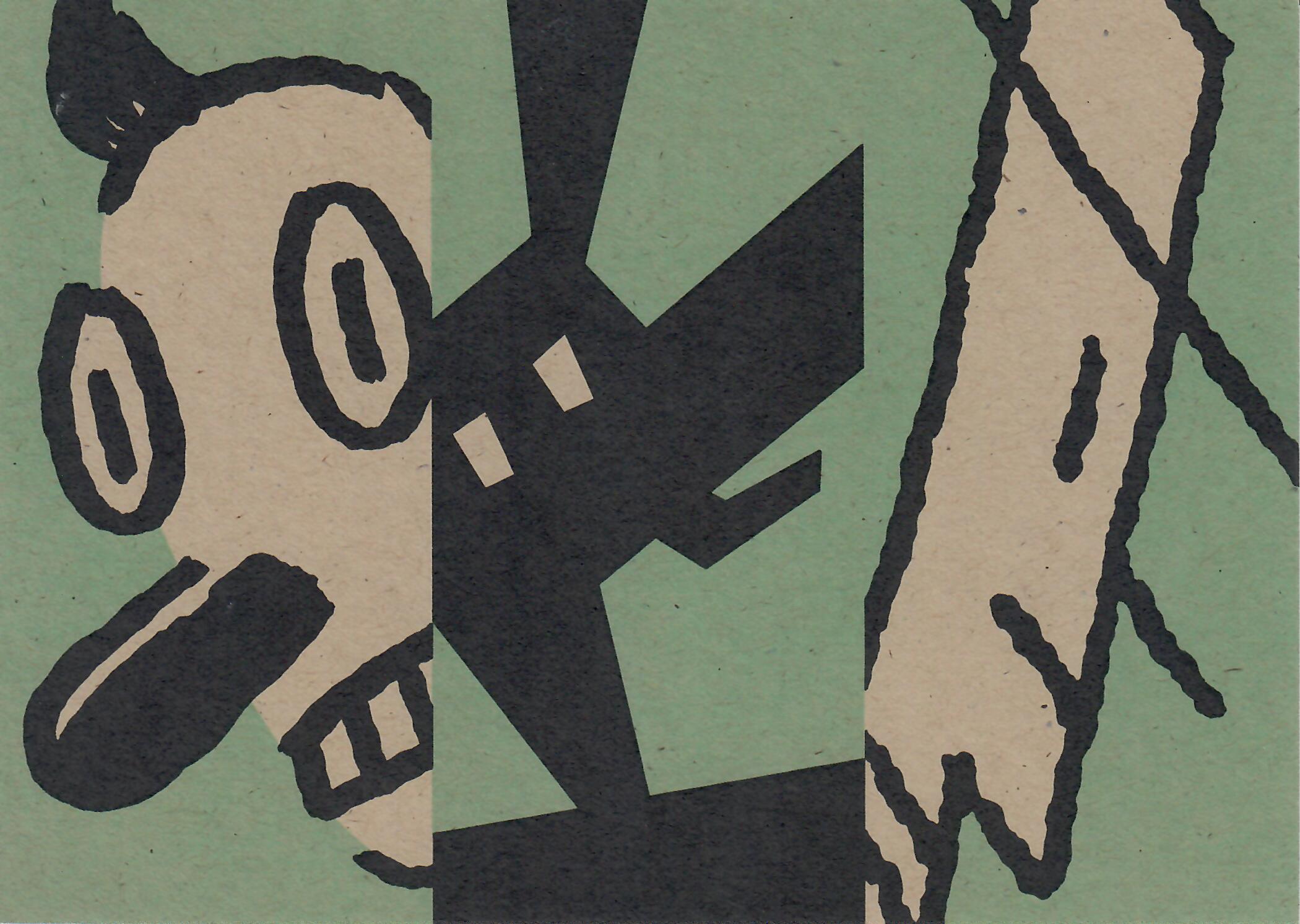 WiseGeist
September 25 — October 31, 1992
The Art of Gary Baseman, Greg Clarke & Mark Fox
First commercial exhibition of these three UCLA art school graduates
Now: all three are highly successful artists but with unique and divergent styles; all three have been collected, exhibited, and published around the world. Explore their work with these links.
Gary Baseman
Greg Clarke
Mark Fox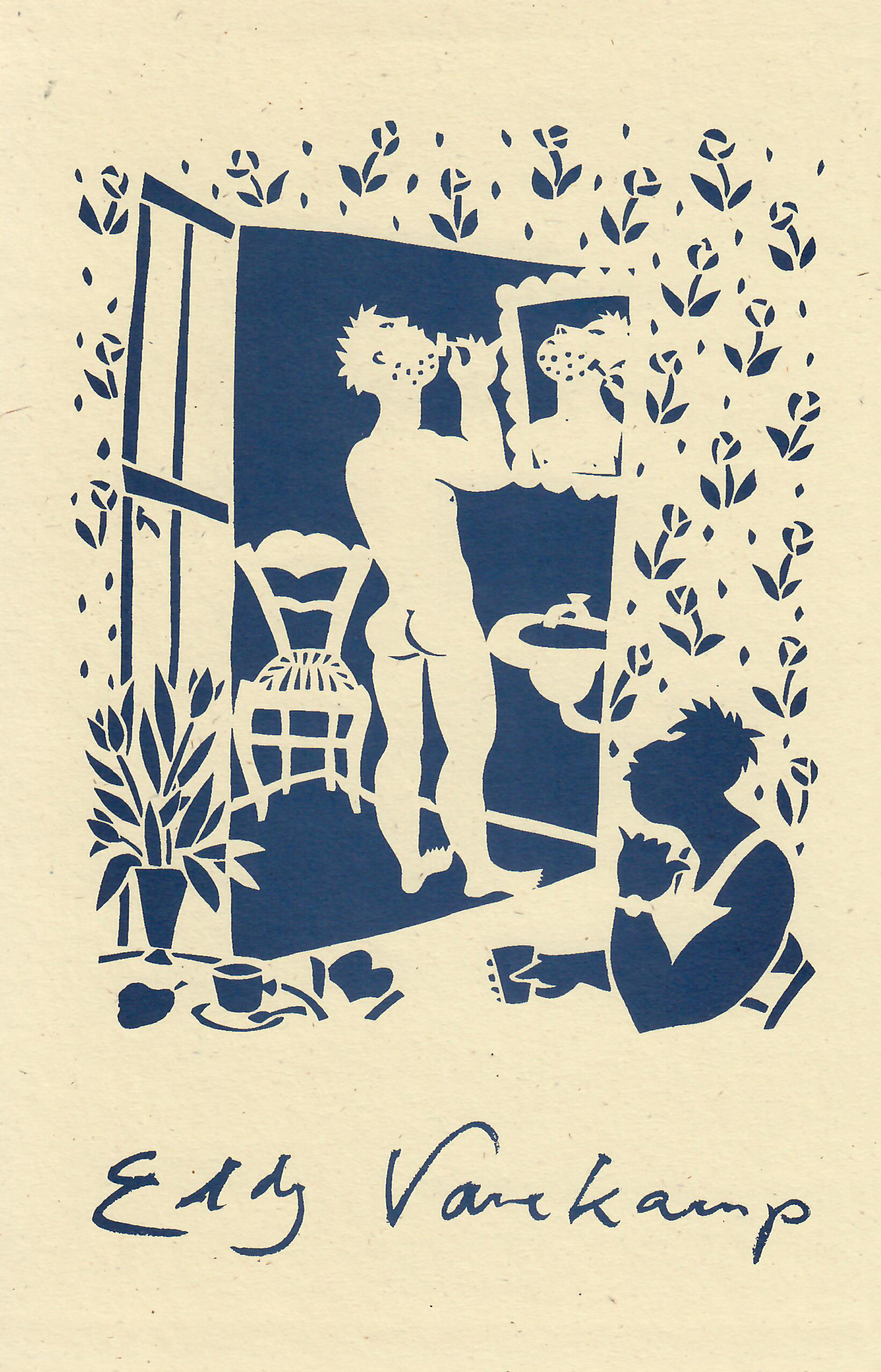 Eddy Varekamp
December 5, 1992—January 30, 1993
Eddy Varekamp, paintings and prints from Amsterdam
First U.S. exhibition
Now: He continues to create and sell work in his Amsterdam atelier.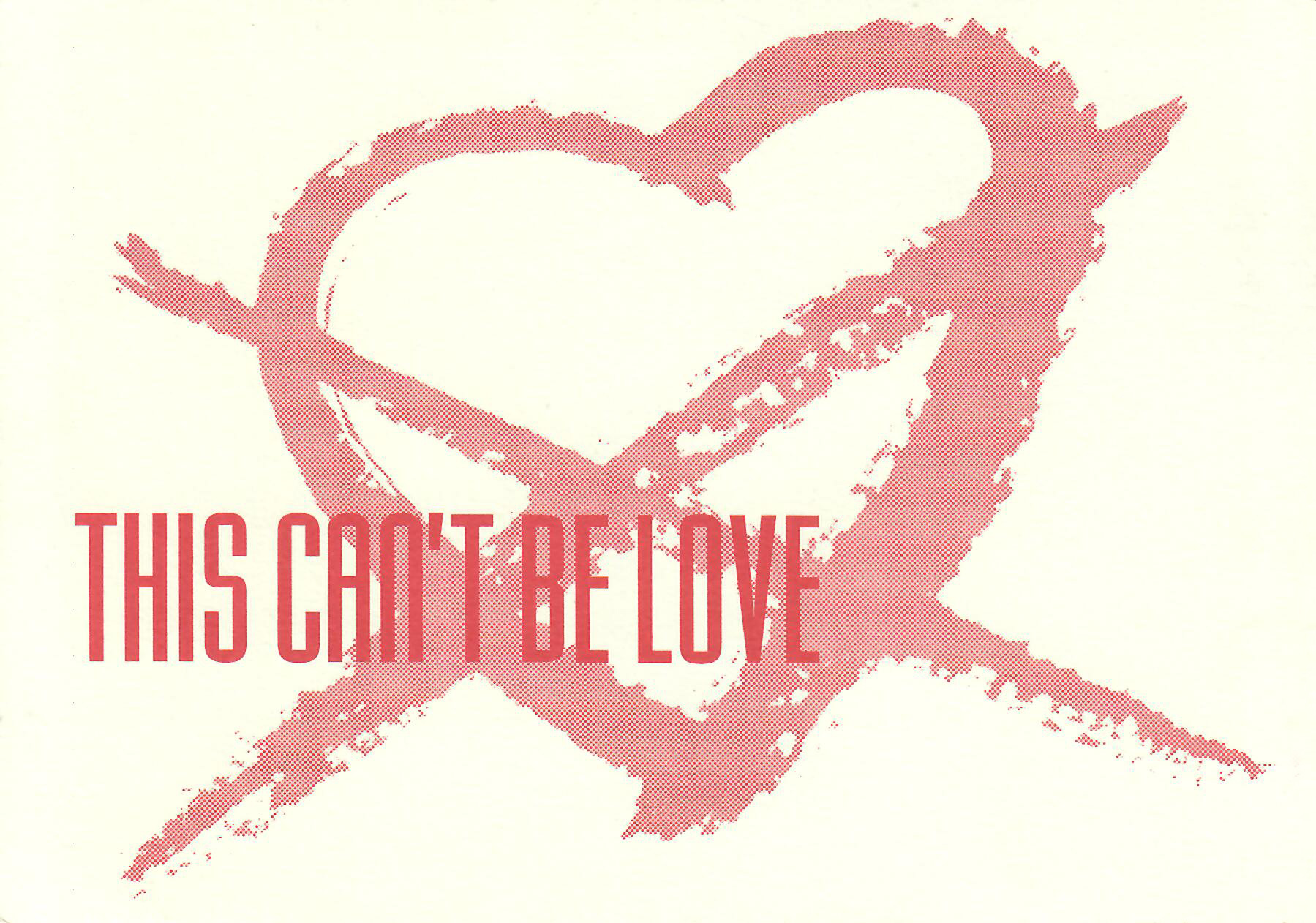 This Can't Be Love
February 12, 1993
St. Valentine's show of erotic and ironic art, co-curated by Michael Buitrón and featuring: Gary Baseman, Micheal Buitrón, Catanzaro & Mahdessian, Greg Clarke, Greg Cloud,
Jory Felice, Richard Hawkins, Donnie Hudson, Bradley Parker, Deborah Roundtree,
Mark Rosenthal, Carole Topalian, and Eddy Varekamp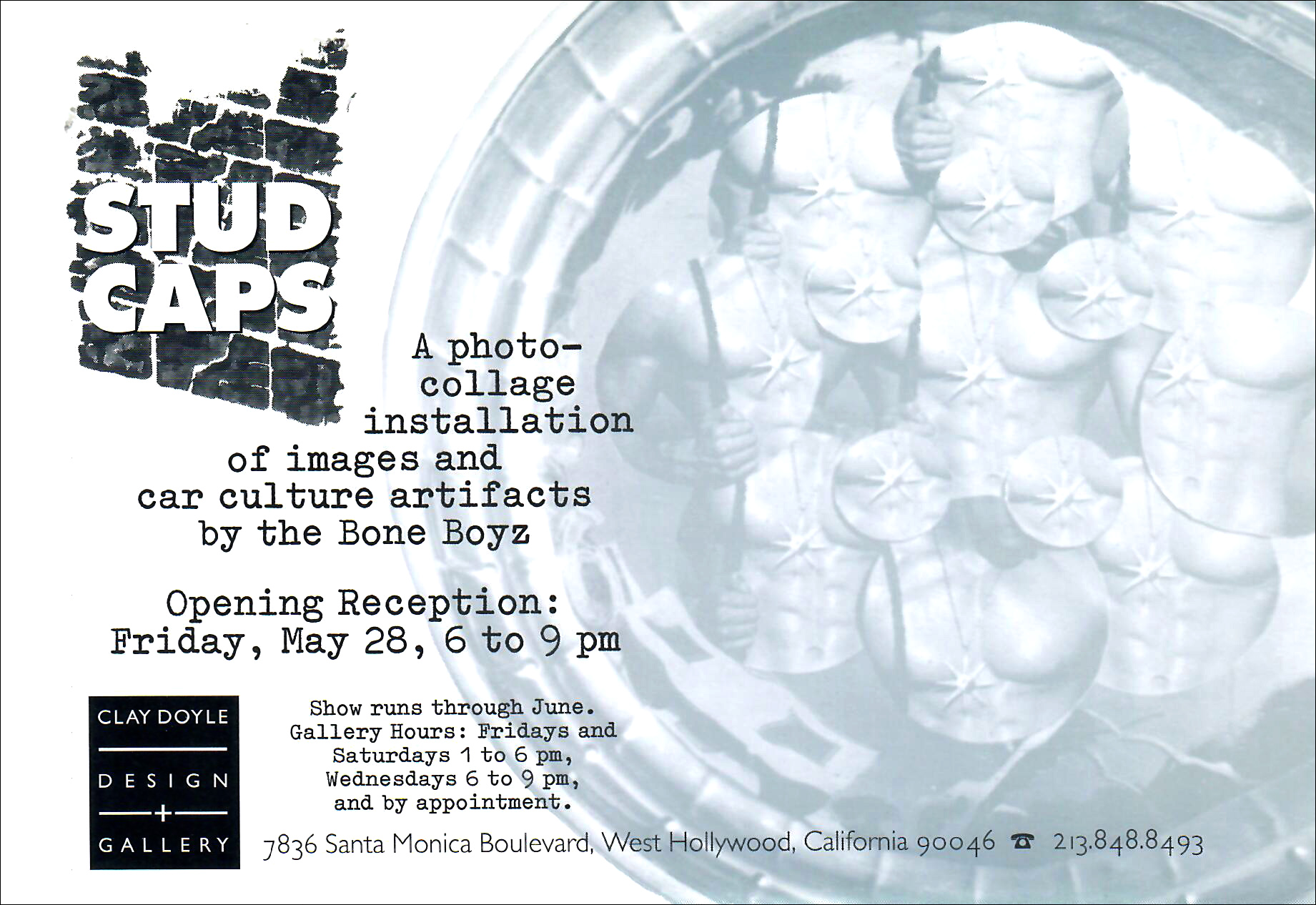 Stud Caps
May 28, 1993 — June 30, 1993
A Photo-collage installation by the Bone Boyz: Ken Graziano & Scott Drnavich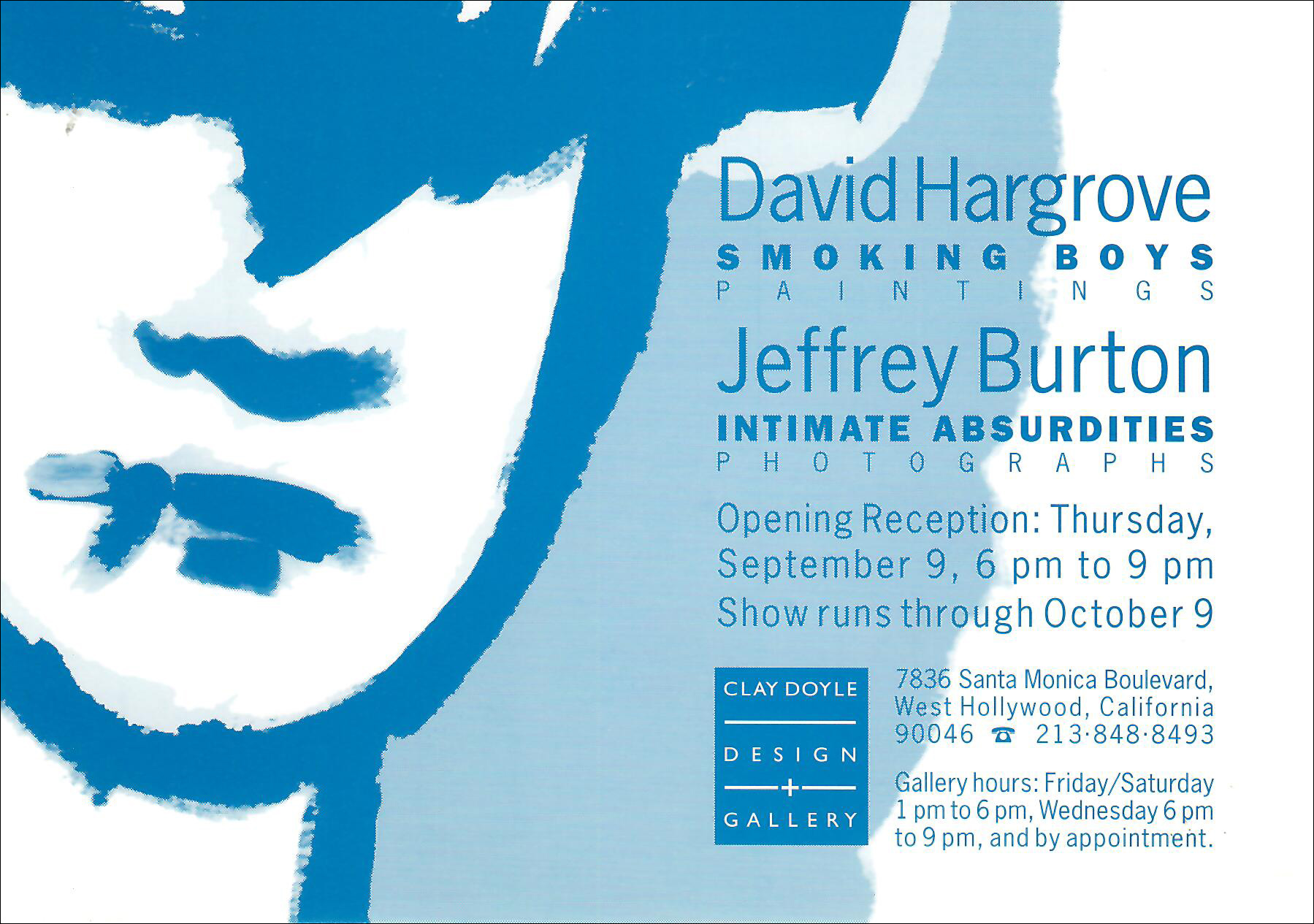 David Hargrove & Jeffrey Burton
September 9, 1993—October 9, 1993
Smoking Boys: Paintings by David Hargrove
Intimate Absurdities: Photographs by Jeffrey Burton
First commercial exhibition for these artists
Now: David Hargrove went on to become an interior designer before his untimely death in 2015.
Jeffrey Burton is a very successful fashion and fine art photographer.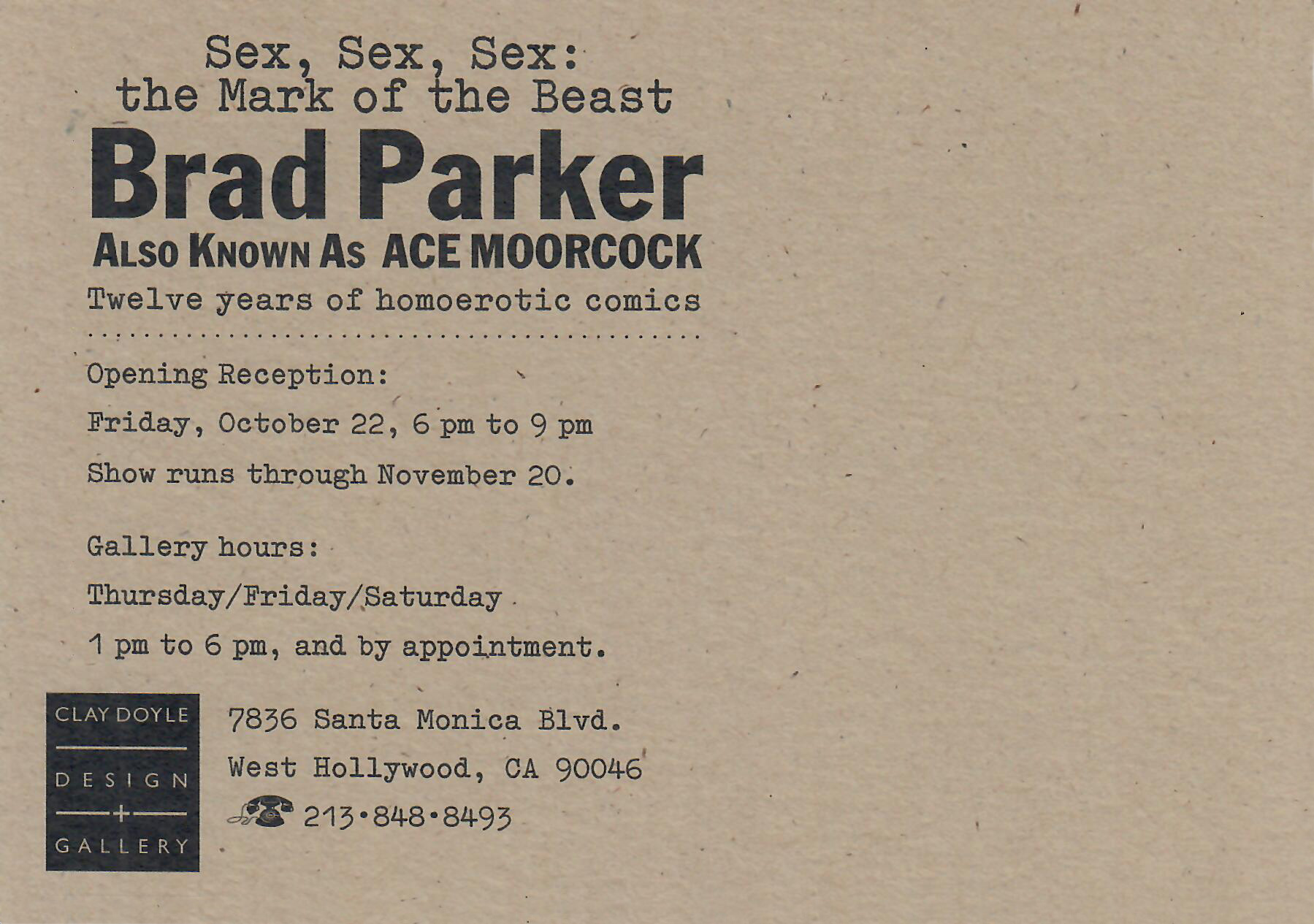 Sex, Sex, Sex: The Mark of the Beast
October 22, 1993—November 20, 1993
Twelve Years of Homoerotic Comics by Brad Parker (aka Ace Moorcock)
First and only retrospective of the artist's erotica
Now: Parker is a successful Tiki artist in Hawaii.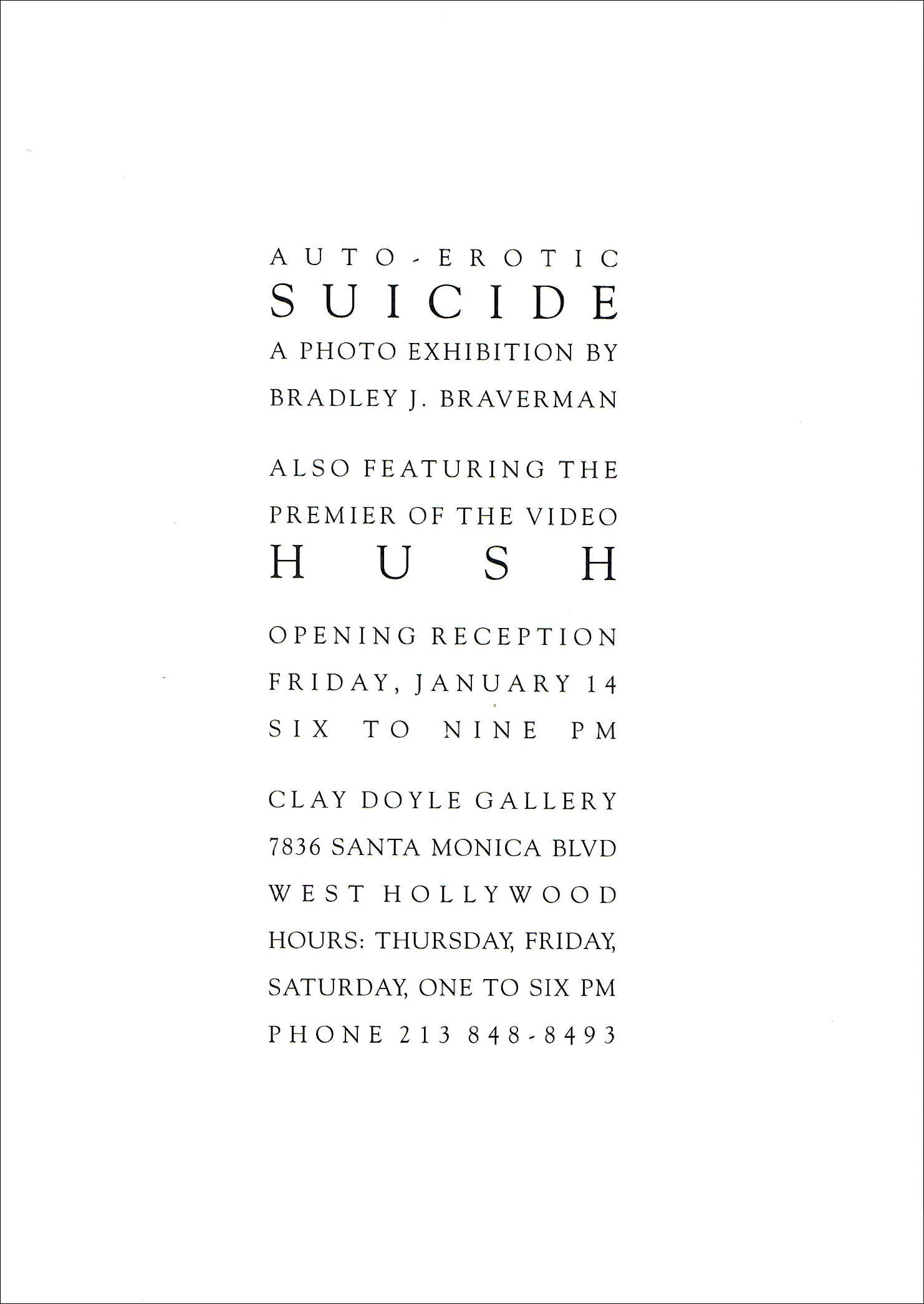 Auto-Erotic Suicide
January 14, 1994—February 27, 1994
Photographs by Bradley J. Braverman
First exhibition of this ironic yet exquisite black and white photo series
Now: Braverman died of complications from AIDS shortly after the exhibition.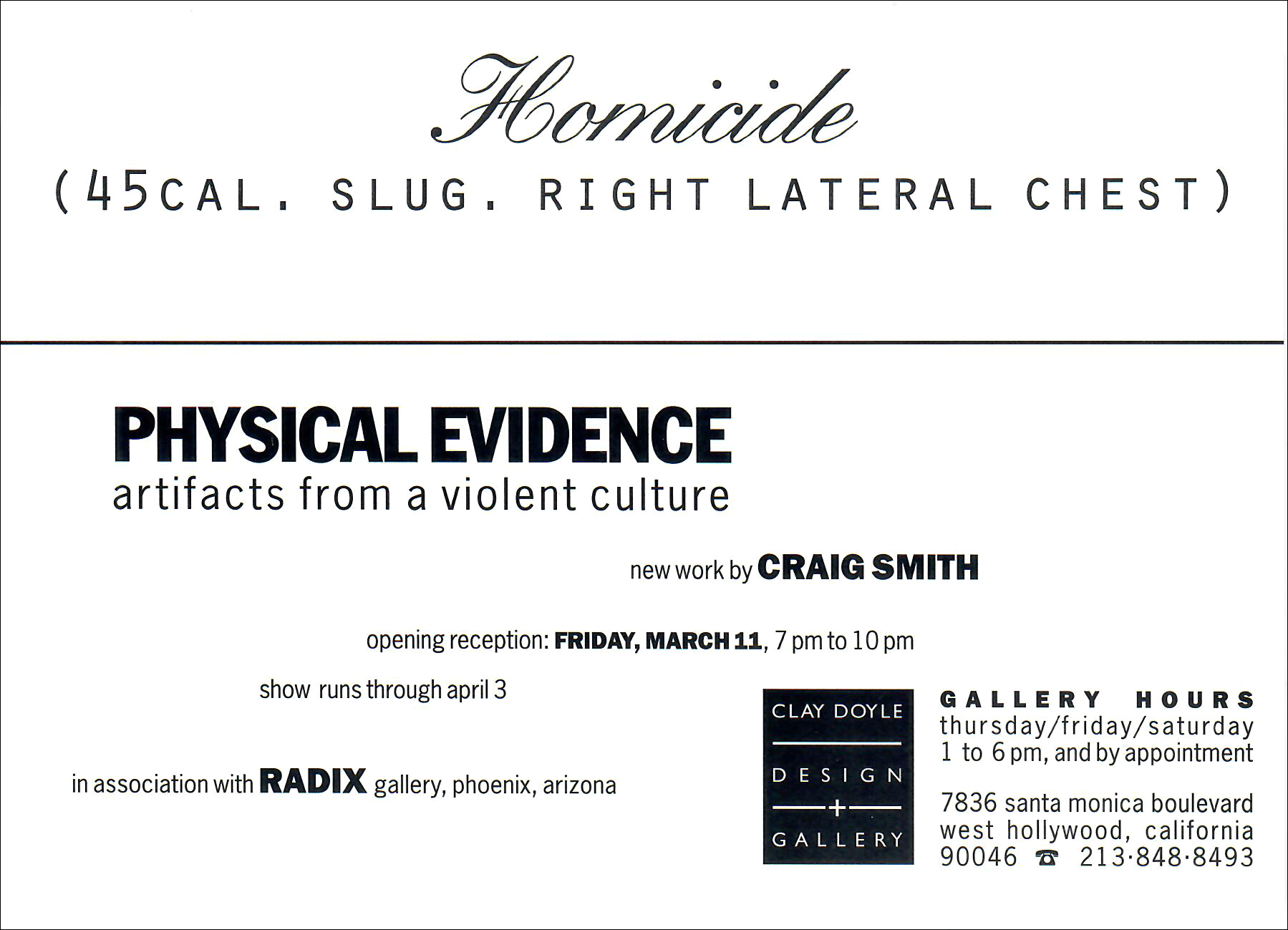 Physical Evidence: Artifacts From a Violent Culture
March 11—April 3, 1994
Photographs by Craig Smith
California exhibition of this inkjet print photo series courtesy of the Radix Gallery, Phoenix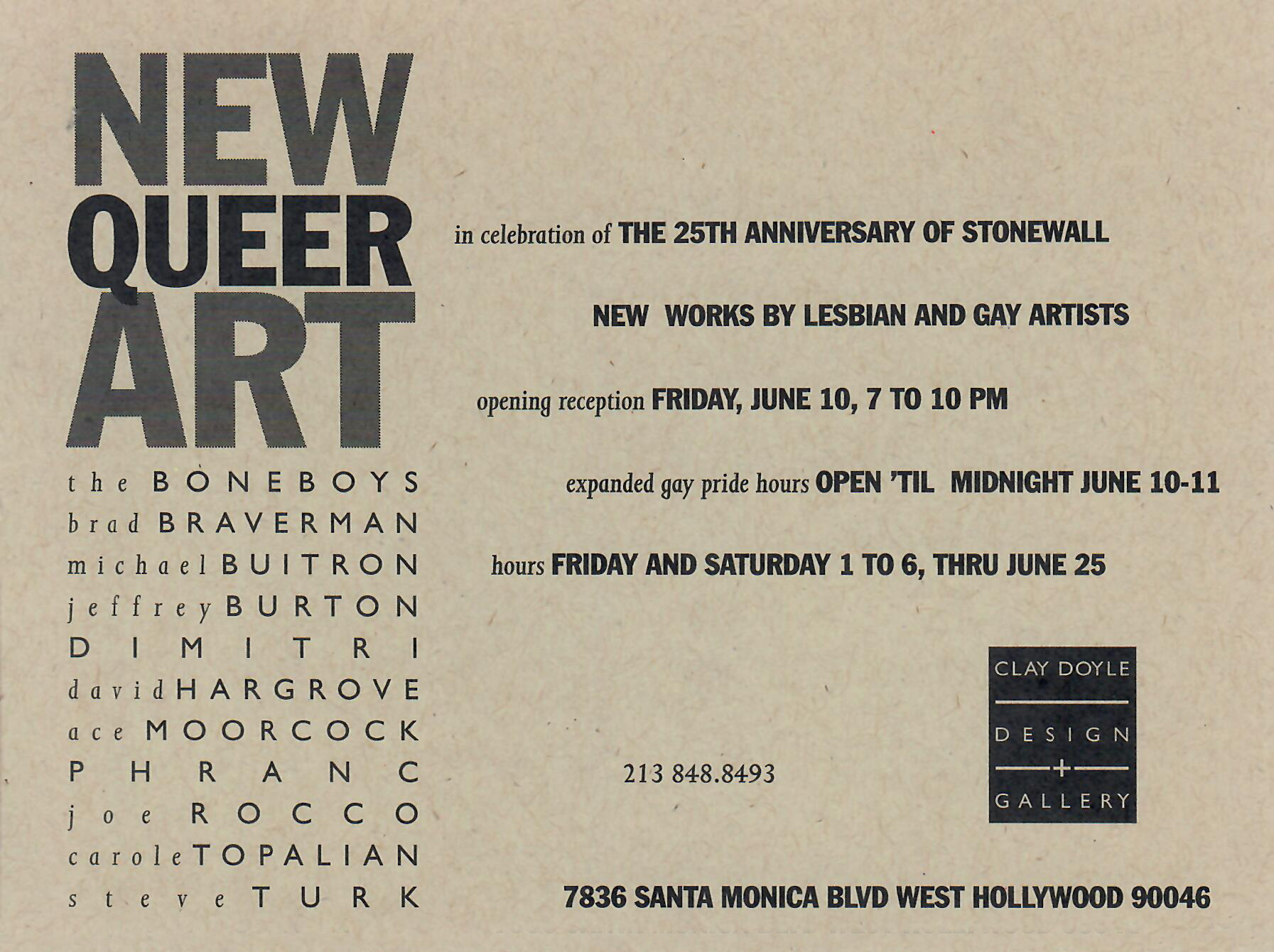 New Queer Art
June 10—June 24, 1994

New Work by Lesbian and Gay Artists in celebration of the 25th anniversary of Stonewall
Showcasing the work of the following artists: Brad Braverman, Michael Buitron,
Jeffrey Burton, Dimitri, David Hargrove, Ace Moorcock, Phranc, Joe Rocco,
Carole Topalian, and Steve Turk.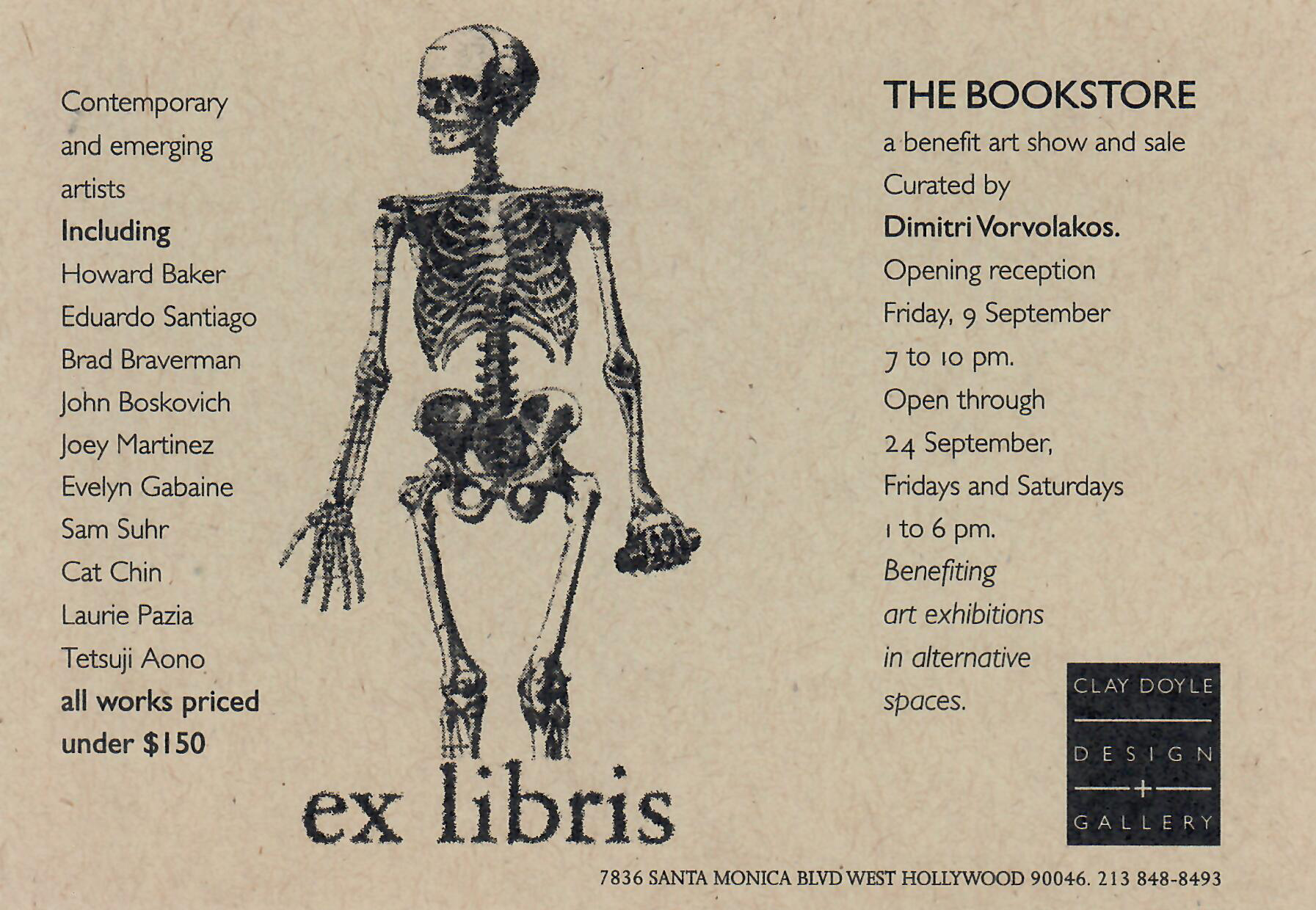 The Bookstore
September 9—September 24, 1994
A gallery installation by Dimitri Vorvolakos
Full gallery installation created especially for the space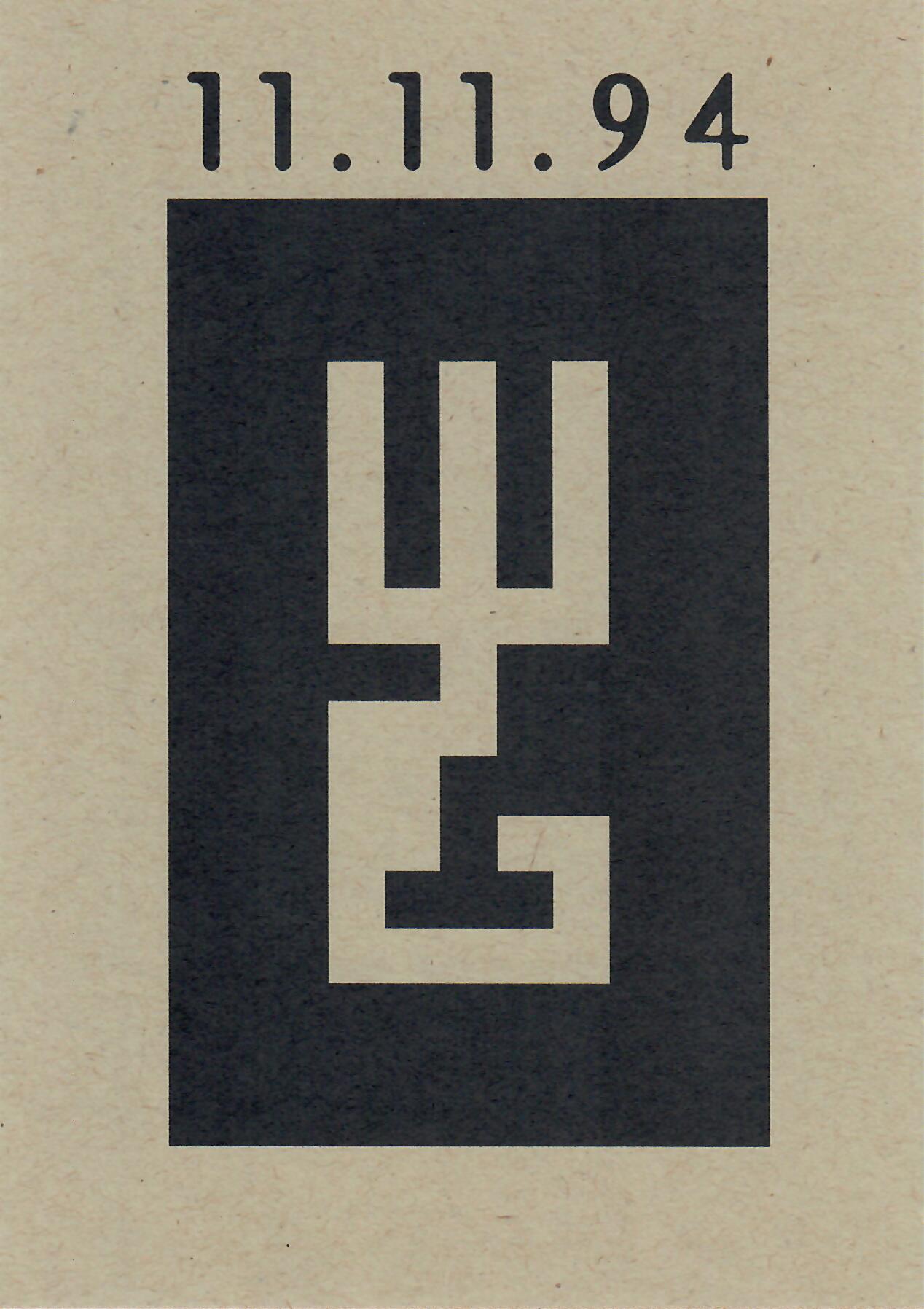 WiseGeist 2
November 11—December 17, 1994
Text and Images by Gary Baseman, Greg Clarke, and Mark FoxText and Images by Gary Baseman, Greg Clarke, and Mark Fox
Second exhibition at the gallery by this trio of increasingly successful artists
Now: all three are highly successful artists but with unique and divergent styles; all three have been collected, exhibited, and published around the world. Explore their work with these links.
Gary Baseman
Greg Clarke
Mark Fox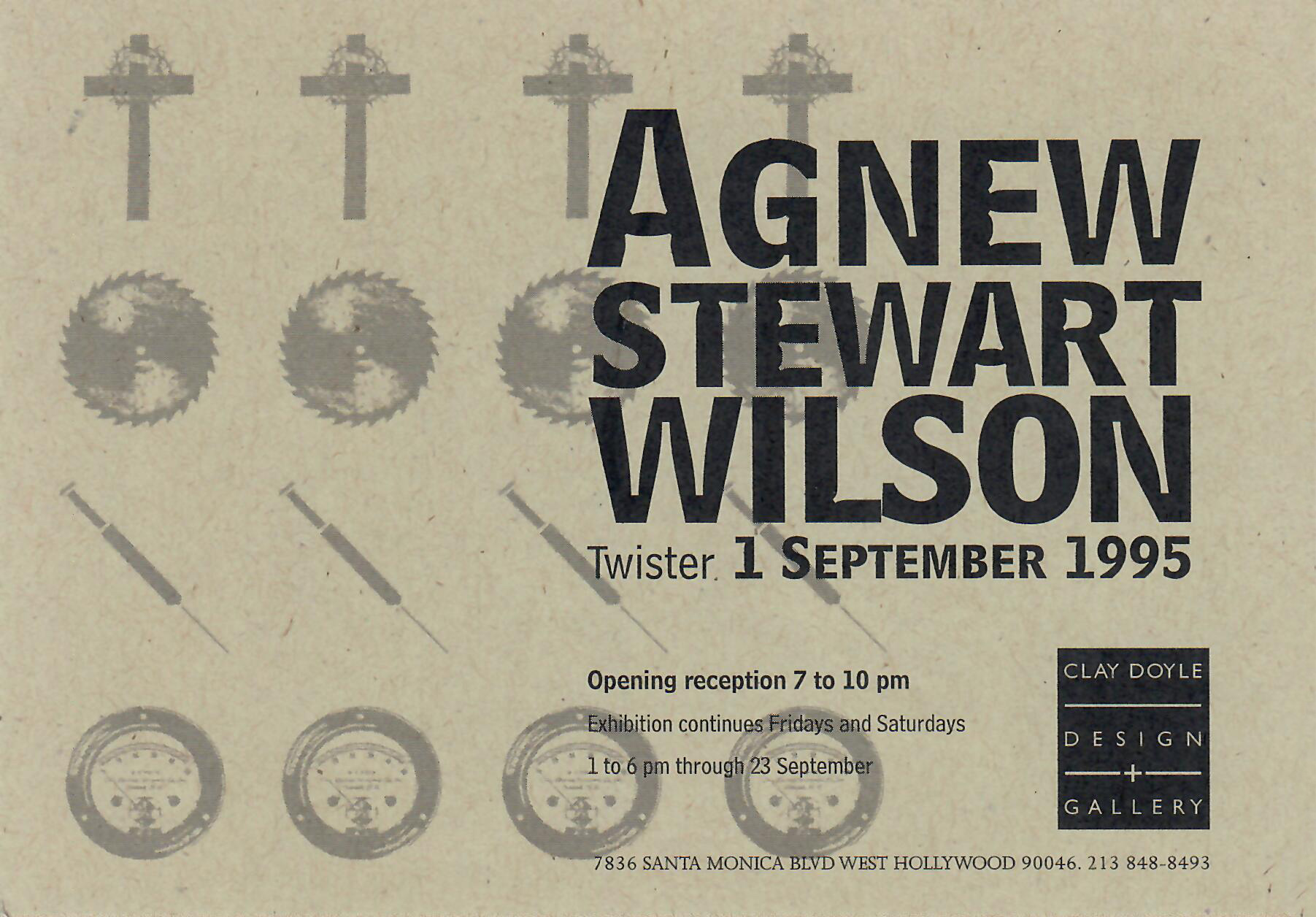 Twister
September 1—September 23, 1995
Agnew Stewart Wilson
An extensive series of small-scale sculptures of meticulously assembled from discarded industrial, consumer and religious objects. First showing ever of this true "outsider" artist.
Now: after some subsequent success and a long hiatus, Wilson is working on new pieces.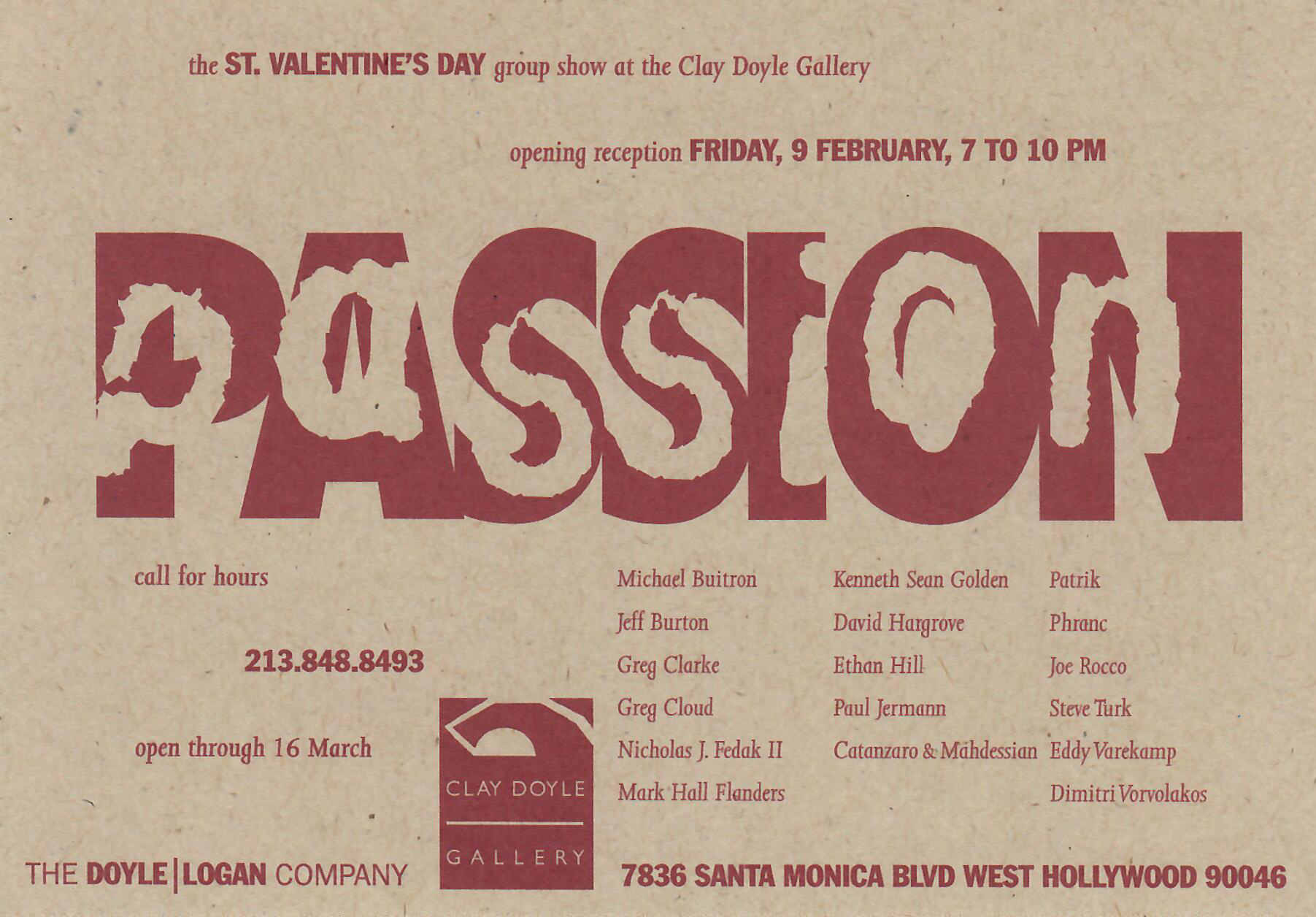 Passion
February 9—March 16, 1996
Our second St. Valentine's Day group show featuring new work by:
Bone Boyz, Michael Buitrón, Jeffrey Burton, Greg Clarke, Greg Cloud, Clay Doyle, Nicholas J. Fedak II, Mark Hall Flanders, Kenneth Sean Golden, David Hargrove, Paul Jermann, Catanzaro & Mahdessian, Patrik of Amsterdam, Phranc, Joe Rocco, Steve Turk, Eddy Varekamp, Mike Vonnet, and Dimitri Vorvolakos

The Gallery at The Doyle/Logan Company
1996—1999
In 1996 Clay Doyle and his long-time collaborator Michael Logan incorporated the design business as The Doyle/Logan Company. The exhibition space was from then known as The Gallery at the Doyle/Logan Company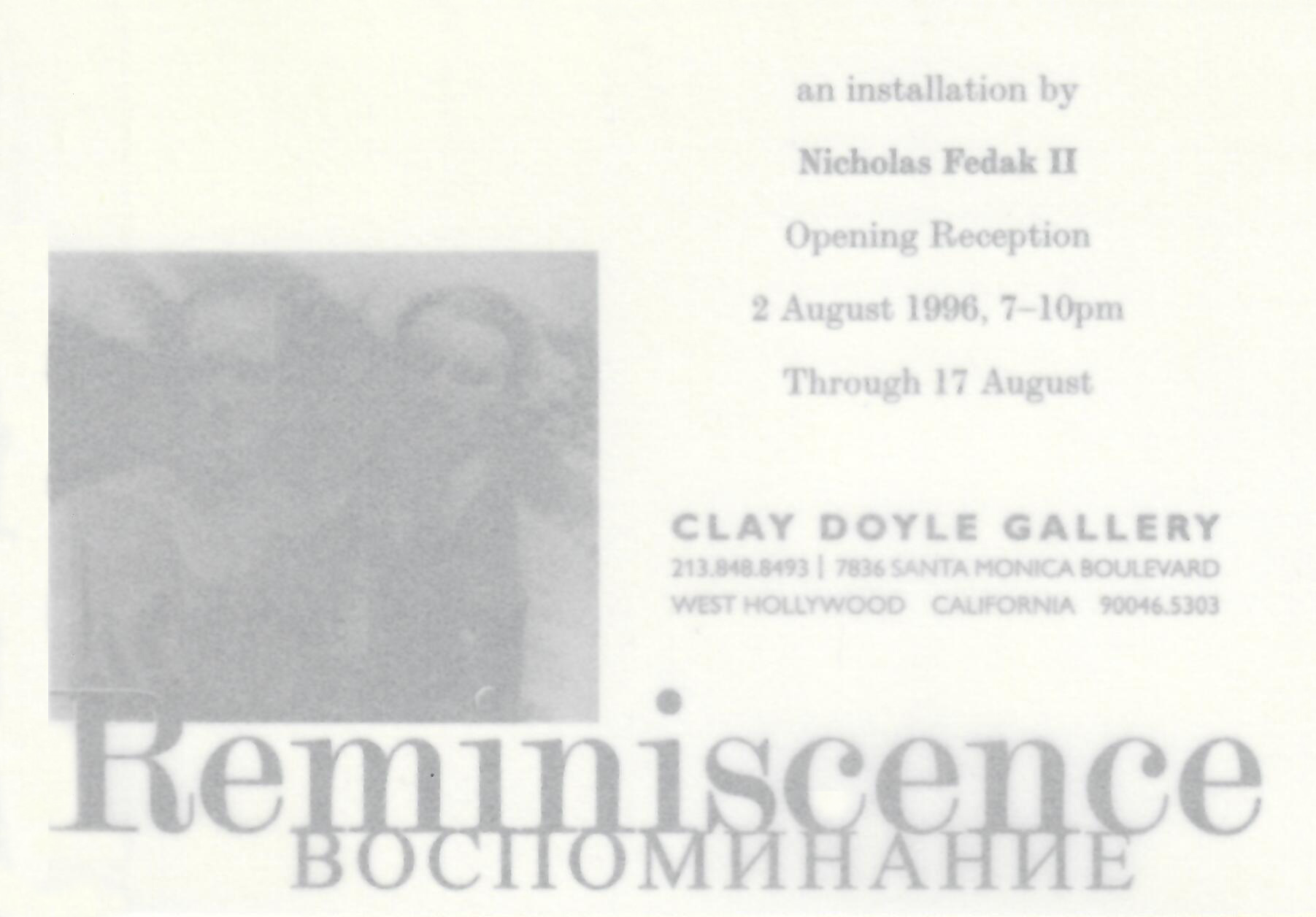 Reminiscence
August 2—August 17, 1996
A gallery installation by Nicholas Fedak II
Site specific installation themed to memory and emigration
Now: Fedak creates and exhibits his work internationally
nicholasfedakii.com
Travels
August 23—September 28, 1996
Photographs by Clay Doyle and Michael Logan
Photographs of Europe 1989—1995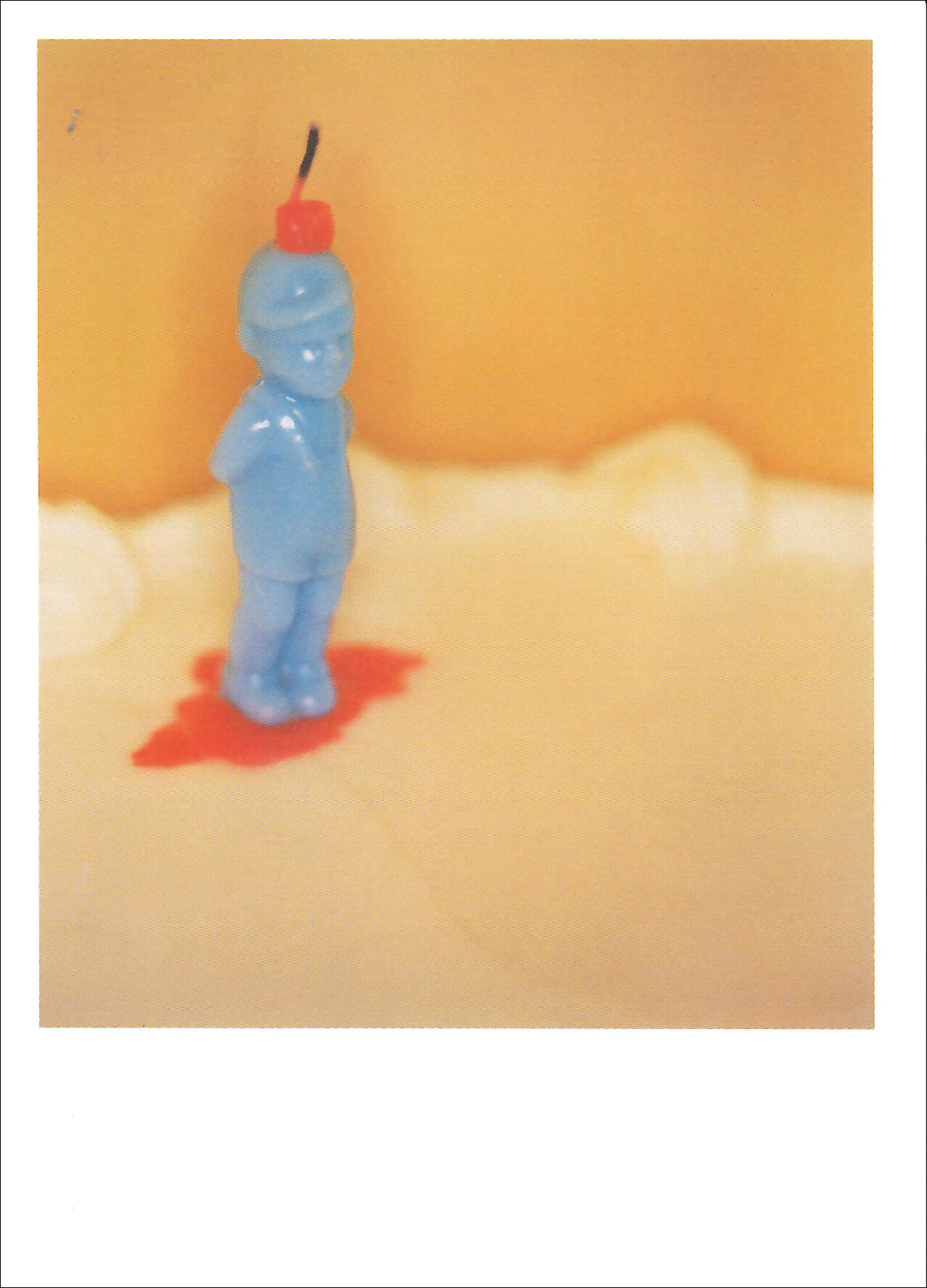 Childish Things
October 18—November 9 1996
Photographs by Davis and Davis
First commercial show of this whimsical yet sinister photographic series incorporating toys from this husband and wife team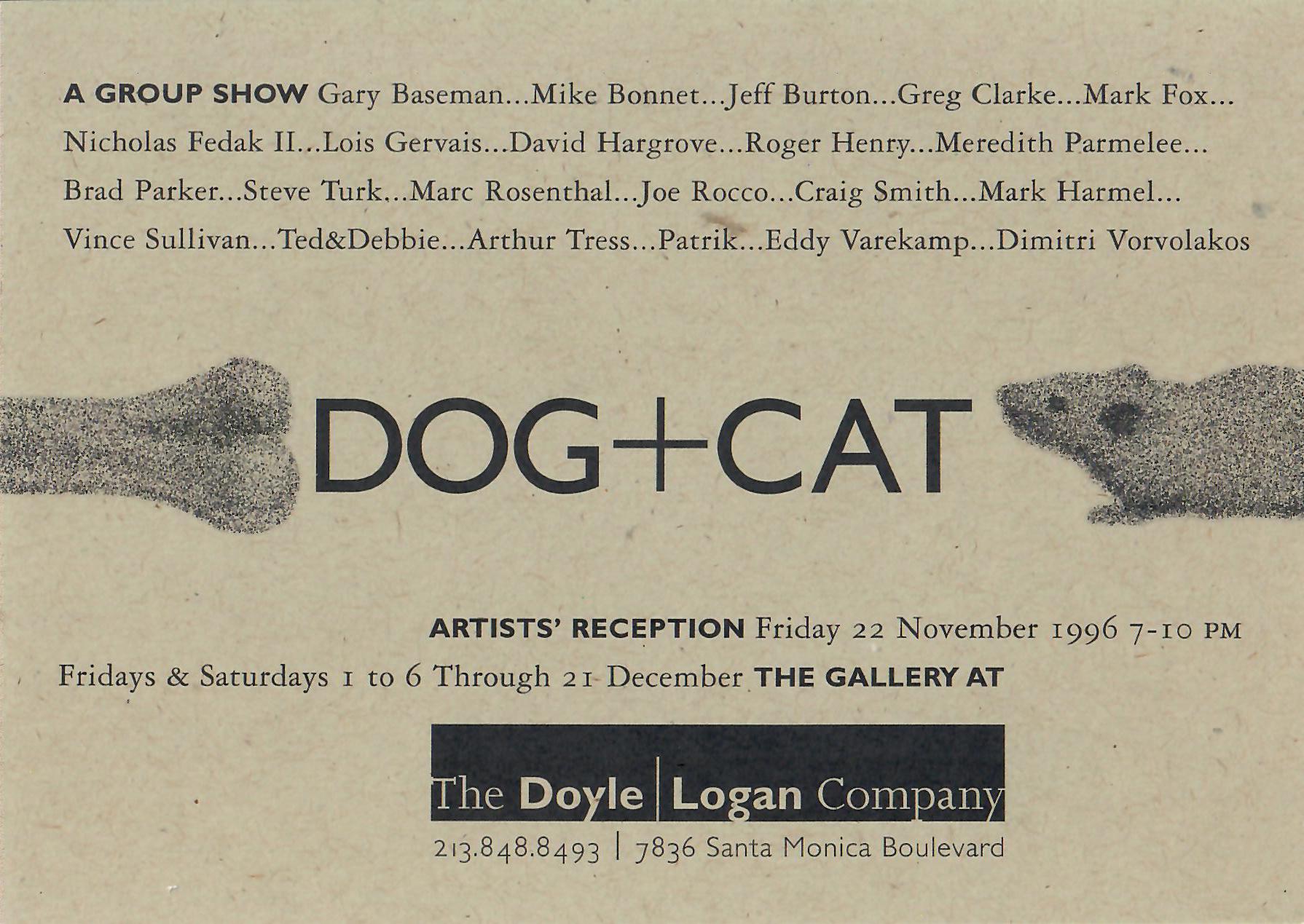 Dog + Cat
November 22—December 21, 1996
A group show featuring new works created on the theme of dogs and cats. Featuring work by: Gary Baseman, Mike Bonnet, Jeff Burton, Greg Clarke, Mark Fox, Nicholas Fedak II, Lois Gervais, David Hargrove, Roger Henry, Meredith Parmelee, Brad Parker, Steve Turk, Marc Rosenthal, Joe Rocco, Craig Smith, Mark Harmel, Vince Sullivan, Ted&Debbie, Arthur Tress, Patrik, Eddy Varekamp, and Dimitri Vorvolakos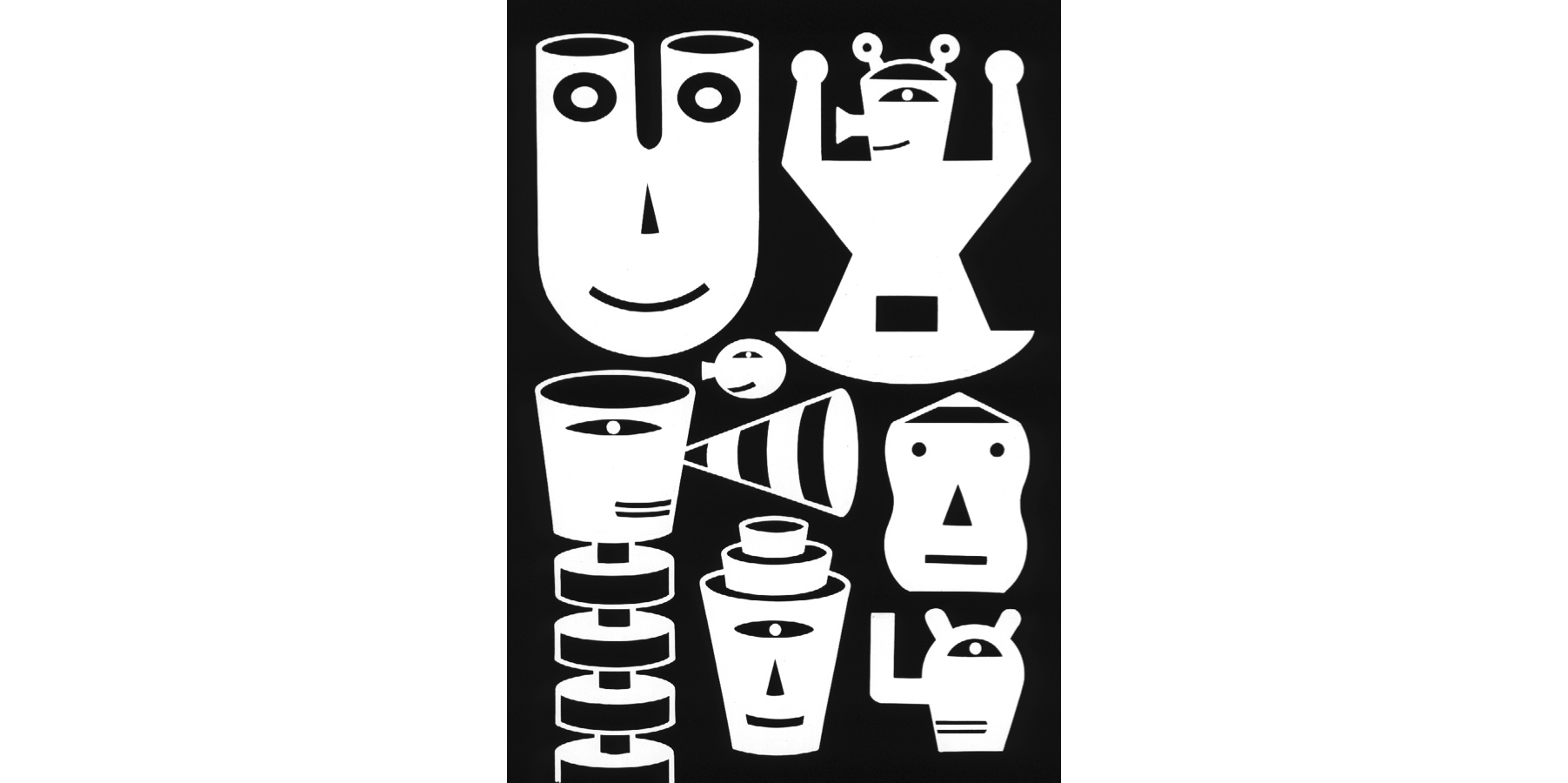 Steve Turk
February 28—March 28, 1997
painting and illustration
First commercial solo exhibition by this LA based illustrator, shortly before changing his illustrative style, as well as his name
Now: He creates illustration for a wide range of corporate and editorial clients under the name Noah Woods, as well as creating an acclaimed childrens' book, and fine art.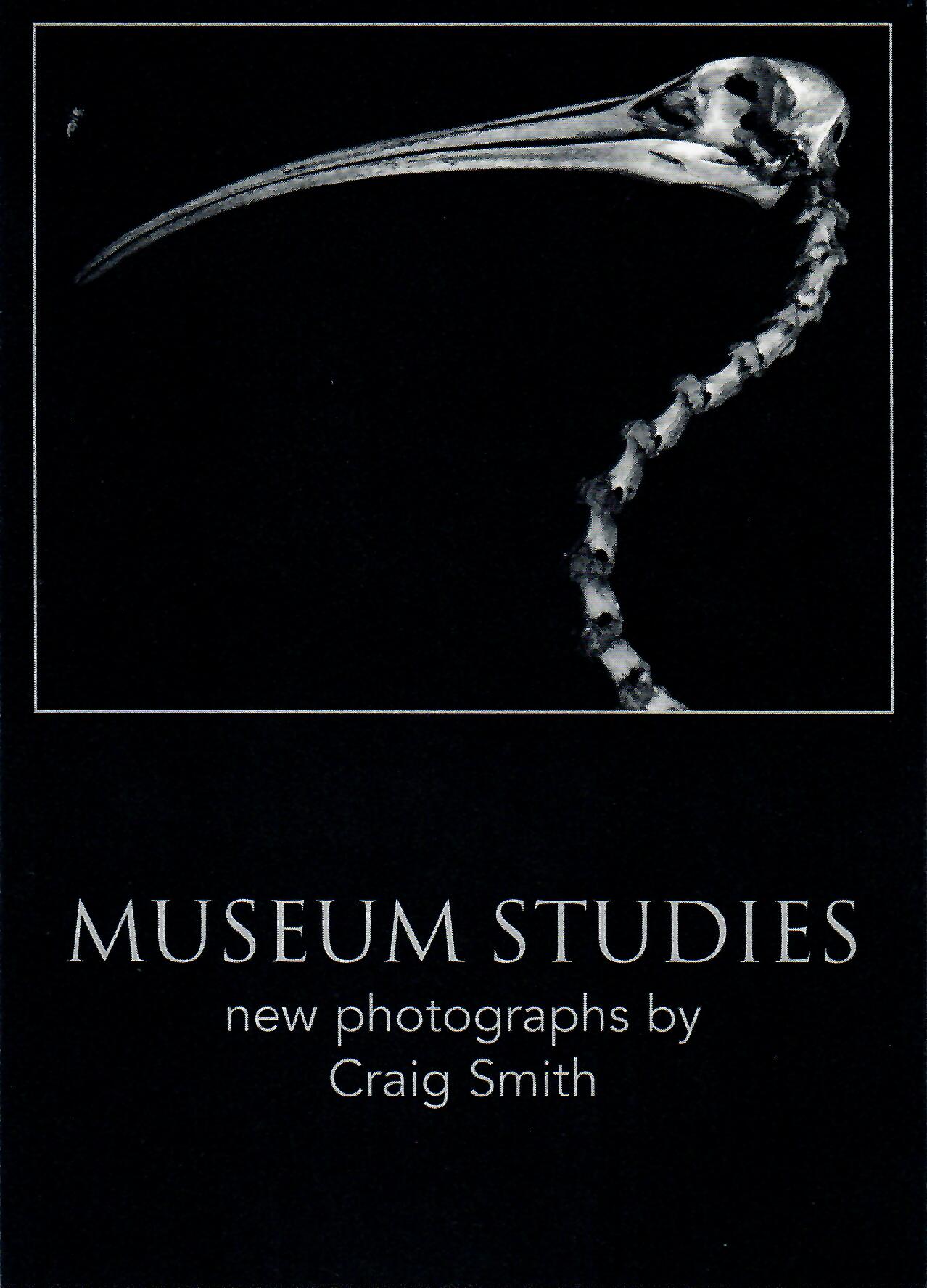 Museum Studies
December 5, 1997—January 31, 1998
A new series of photographs by Craig Smith
First California exhibition, courtesy the Radix Gallery, Phoenix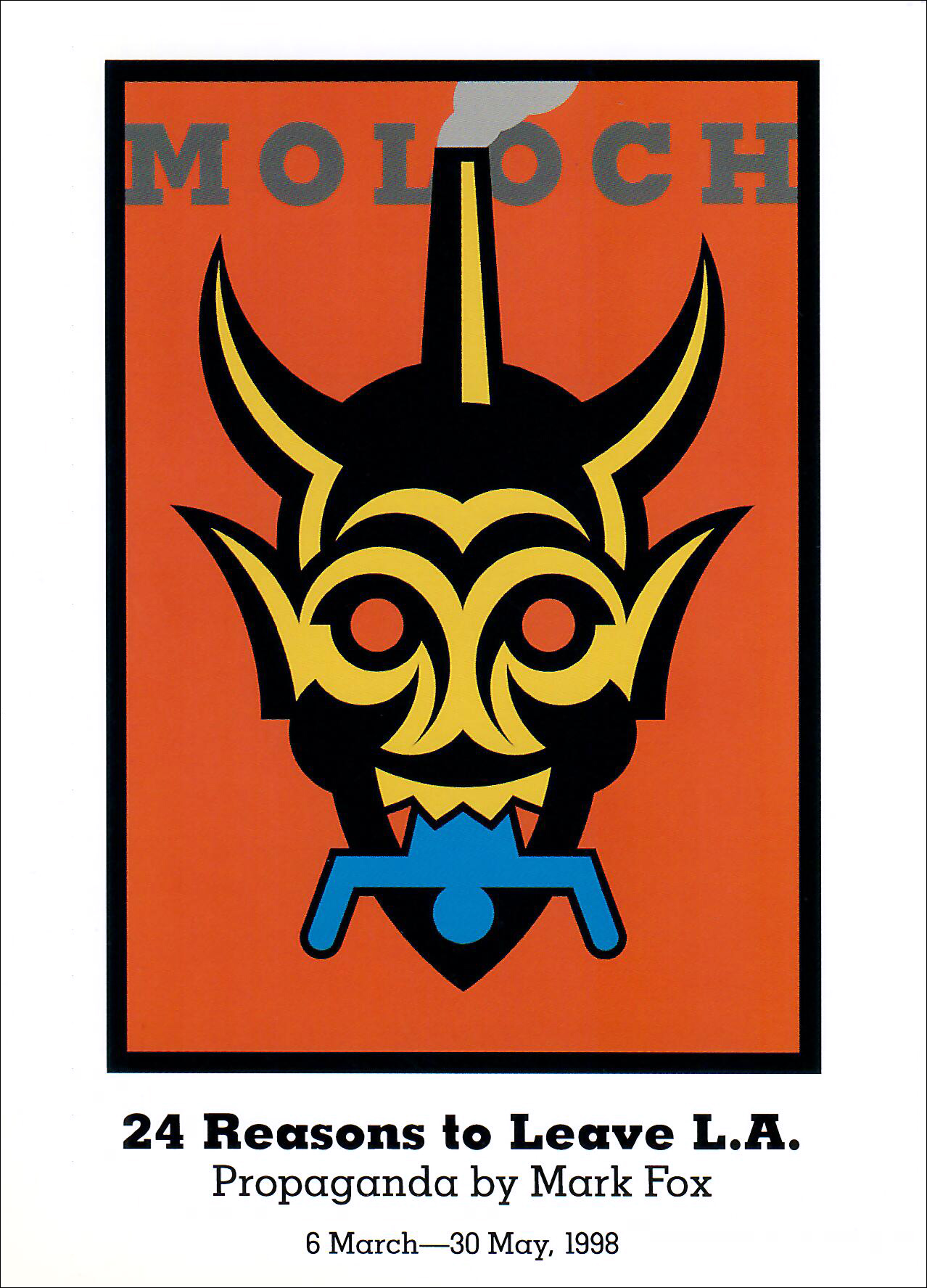 24 Reasons to Leave LA
March 6—May 30, 1998
New propaganda by Mark Fox
Solo show by Mark Fox featuring new political works and a series of limited edition posters created especially for this exhibition
Now: Many works from this show are now in the design collections of museums internationally.
Fox continues to design and create propaganda posters in San Francisco at his studio Design is Play, with creative partner Angie Wong. He is also a Professor of Graphic Design at California College of the Arts (CCA) in San Francisco.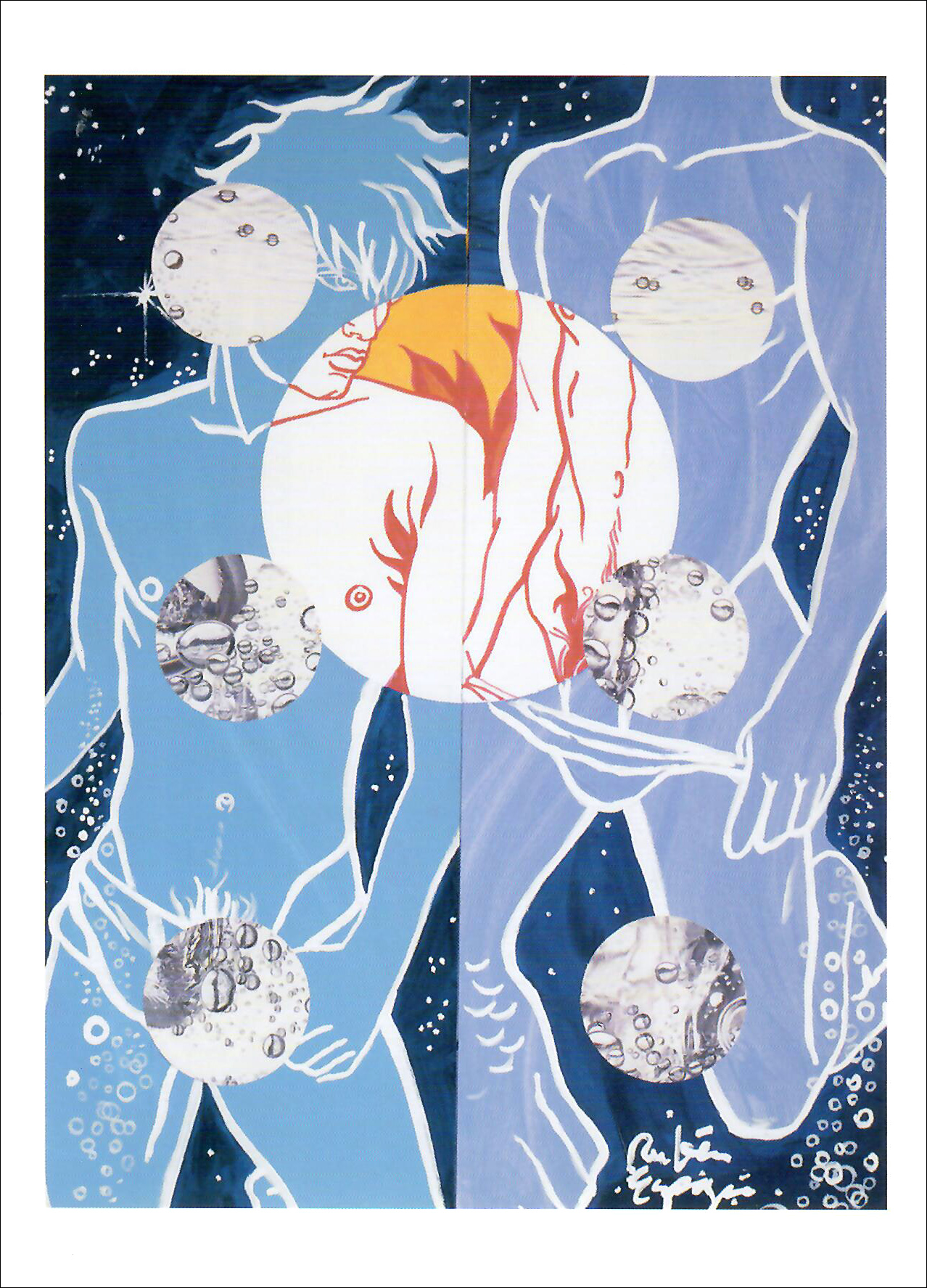 Blue LA/NY curated by Konrad Kemper
September 18—November 14, 1998
Illustrations by Rubén Esparza
Early solo show by this eponymous LA artist
Now: Esparza continues his active career as artist, provacateur and activist
Tickets curated by Konrad Kemper
April 9—May 28, 1999
Photographs by Evan Klein
First solo exhibition of this series of black and white carnival photographs

Final Exhibit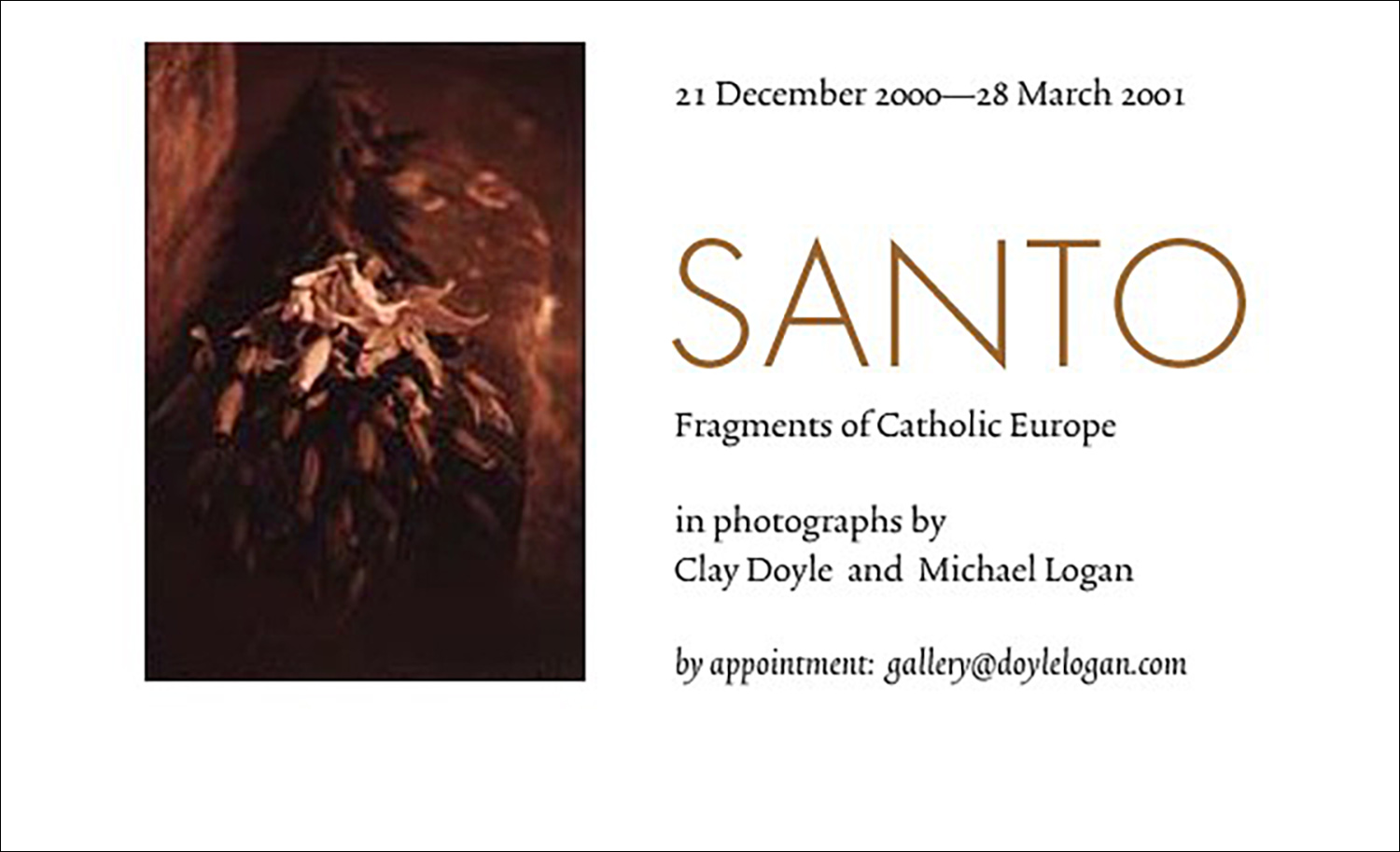 Santo: Fragments of Catholic Europe
A final exhibition of photographs by Clay Doyle and Michael Logan
In 1998 Mr. Doyle left for a sabbatical in Amsterdam.
In 2001 he and Mr. Logan relocated the design business and the gallery closed permanently